Home
›
Announcements
›
Announcements
it's basically a gui update to VSC. But it's now simpler to convert sna files into tap files.
what is special about SnapToTap?
it converts snapshots into a single, standard CODE block. You can use LOAD "" CODE from basic and then use a USR xxx to start the game.
You can copy these blocks to any storage unit, microdrives, +3 disks or tapes, you name it. Tool can inject microdrive and tape loaders if you want.
Requirements:
MS .net framework 2.0+ (win XP/Vista/7)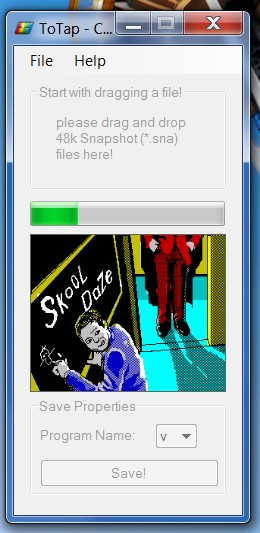 Features:
Bitbuster compression (amazing really. Chuckie Egg compresses into 10k, loads fast.)
Standard code blocks.
Download:
http://arda.kisafilm.org/fish/SnaptoTap-r2.zip
(240kb zip file) (updated: r2.1)
bug reports or feature requests may be posted here or
blog entry
.
Tips:
* Create snapshots when the screen is blank. Doing this produces a smaller tap file (about 3k), shorter loading time.
* If you don't want to see a corrupted screen, make the snapshot just before the program refreshing the screen (use "tape event>tape stop" debugger command in specemu).
* SNA files are 48k images generated by a 48k computler. So they may not work if resulting tap loaded into a 128k computer.
* Here is an a
example Mdr file
, snaptotap can manage 6 full snapshot into ONE microdrive cart: Cyclone, Action Force 2, Chuckie Egg, Skooldaze, Snooker and Thrust 2.
Post edited by Arda on