Home
›
Announcements
›
Brand new software
C.G.D - Classic Game Designer
UPDATE: August 07, 2013

AN UPDATED VERSION OF CGD IS NOW AVAILABLE, DETAILS HERE:

http://www.worldofspectrum.org/forums/showpost.php?p=715509&postcount=63
Original post follows:
Hhhokayyyy, I'm making a test version of CGD available. If there is enough interest I'll do a rewrite that allows more features, UDGs and screens but for the moment I'd like to know how intuitive the designer is, if there are any bugs, and how many things I've forgotten to mention in the instructions.
CGD is for creating games with that early 1980's old school feel.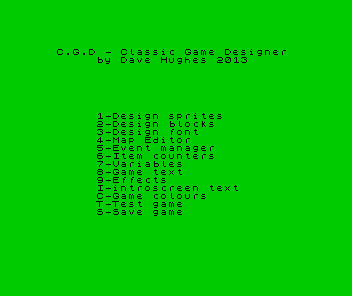 ***Info below now obsolete***
[strike]Download the CGD game designer itself (test version).
Download the instructions (the first draft of)[/strike]
***Info above now obsolete***
Download an RZX of a simple Pacman game being created
Download the z80 of the above Pacman game embedded in CGD
21/07/13 EDIT > This version has a bug, for now POKE 29326,250, POKE 29335,250 solves it. Updated version to follow.
Feel free to host elsewhere.

mediafire links
Instructions

CGD TAP

Pacman z80

Pacman rzx

CGD uses Patrick Rak's superb XOR Shift random number generator. Thanks to Einar Saukas for the name. Though I haven't intentionally used Jonathan Cauldwell's AGD as a model to base CGD on, I must have subconsciously taken a lot of it's ideas.
I would recommend watching the RZX and look at the embedded z80, then reading the instructions and having a play with the designer.
I will post info later on including Beepola and using your own intro screen later. I anticipate changes to the instructions but once completed I would like offers of translating them into other languages. As has been suggested elsewhere, I will consider translating the designer itself into other languages but it depends how much interest there is.
I will accept entries made with CGD to the CSSCGC2013, but I don't think I can allow them to win (but maybe 'win').
I've not had this tested by anyone else yet so please be gentle.
You are my play testers! I will upload some more games that show off CGD's features a bit later.
Post edited by R-Tape on