Home
›
Discussions
›
Games
converting ZX128 software for SAM COUPE
SAM COUPE is computer compatible with ZX48 model. Use same ports, same keyboard with compatible membrane, 64kB adress space with possibility connect any ROM from adress 0, compatible ZX graphic mode, etc...
Big part of SAM's software it games for ZX16/48 kB. And what about using ZX128 software on SAM COUPE ? Exist only several ZX128 games conversions for SAM (for example ROBOCOP 2). SAM use different memory layout/paging than ZX128. Adress space 64kB is on SAM divided to two 32kB blocks - on ZX128 is possible memory paging only in high 16kB. This is big hardware difference = is very hard(impossible) convert ZX128 software for this layout.
But now exist easy way for import ZX128 games to SAM COUPE if 1MB memory upgrade is connect !!! Yes, it's very very easy. 1MB external memory for SAM COUPE enable also memory paging in high 16kB of adress space as on ZX128. Only different paging ports and bit layout is used.
This is bits on ZX128 paging port 32765:
D0 = paging bit 0
D1 = paging bit 1
D2 = paging bit 2
D3 = videoram 0/1
D4 = rom 128/48
D5 = disable port 32765
D6 = unused
D7 = unused
And this is bits on 1MB memory for SAM COUPE on port 129:
D0 = paging bit 0
D1 = paging bit 1
D2 = paging bit 2
D3 = paging bit 3
D4 = paging bit 4
D5 = paging bit 5
D6 = unused
D7 = unused
As you can see - 1MB memory use only more paging bits and absent extra bits for rom/vram switching. This is way for convert any game for SAM COUPE:
1) load ZX128 game and jump before start to debugger in emulator
2) rewrite adress of paging port 32765 to adress 129. All writed values for paging port must be masked by AND 7 instrustion, if game use also next bits than D0-D2.
For example this is original code:
LD BC,32765
OUT (C),A
And we can replace this code with:
AND 7
OUT (129),A
3) disable AY sound
4) export all used memory pages to BIN files
5) import BIN files(ZX pages) to identical page in 1MB memory
Page 5 must be on SAM loaded to adress 16384.
6) load on SAM from adress 0 original ZX 48 rom to ram memory with write protect
7) set ZX graphic mode, set ZX color palette , enable external memory in high 32kB, set port 128 to value 2 and port 129 to value from original port 32765 (only first 3 bits). Jump to starting adress....
Wow...it's work excellent....
This is conversions of games TOTAL RECALL and NAVY SEALS 1
http://velesoft.speccy.cz/other/zx128games_for_samcoupe.zip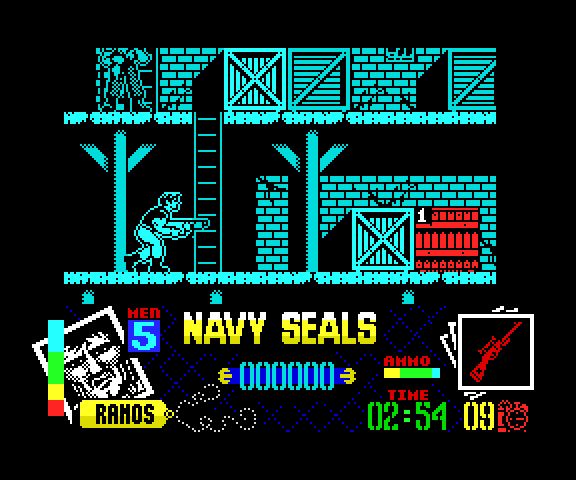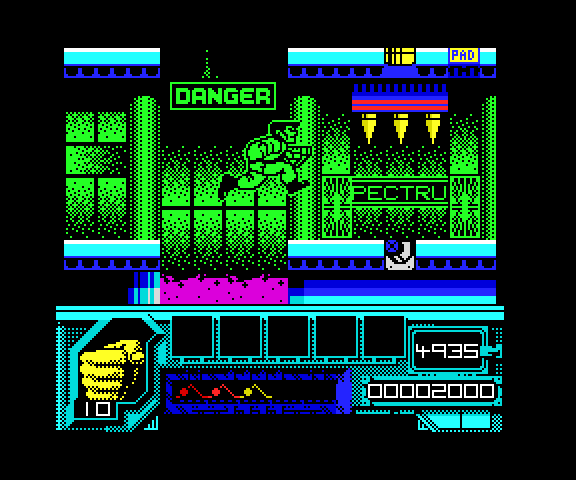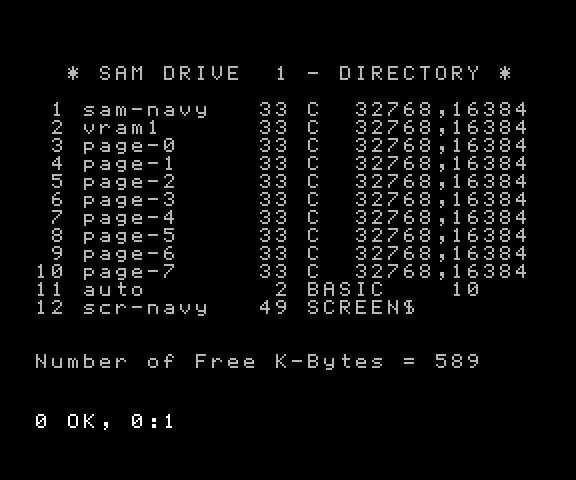 Additional info about 1MB memory and AY ports:
- converted software use all 8 memory pages as ZX128
- page 5 is additional page, not mirrored to adress space 16384-32767
- page 2 is morrored to adress 32768-49151 as on original ZX128
- is ignored switching to second ZX videoram, page 7 is used only as ram
- in adress space 0-32767 CPU run about 10-20% faster than on ZX128
- in adress space 32768-65535 CPU run at 6.0 MHz - games is faster
- all AY ports can be disables/removed because ports #xxFD is on SAM COUPE used for MIDI controll and slow-down CPU (too much).
- can be converted also software for ZX clones with extended memory support. (software for Pentagon 256, Pentagon 512, Pentagon 1024, Assemblers, etc...)
- color palette can be changed before start game/program (each of 16 ZX colors can contain one of 128 possible SAM's colors). This is color palette on SAM COUPE: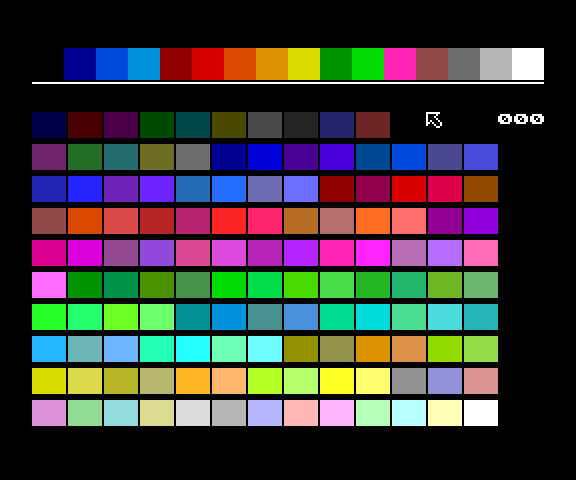 Post edited by velesoft on