Home
›
Announcements
›
Brand new software
Alien Ferox has grown beyond what could be accomplished on a humble Speccy - i've run out of memory AND ideas so that's indefinitely halted.
BUT
In it's stead I decided to try my hand at a little Christmassy platformer, and it's well on the way to completion. Finally getting to grips with AGD, and with all the game mechanics in place all that's left is to add a front-end, completion screen, a few more sprites and more rooms.
So, here's a demo version of... Robot Santa (this title could change at any point
:-P
)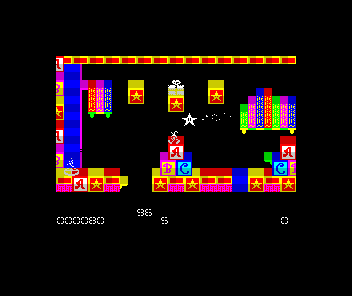 It's simple enough to play... while on the fans, just press up to fly up the shaft... you can leave the shaft via any of the exits above (but obviously you can't go down!) You're character has a battery meter that depletes when you contact an enemy... this can be replenished at a recharge point, but if it reaches zero, a life is lost, and water kills immediately! Also, your battery automatically depletes slowly by itself..
Collecting a set number of pressies opens up the next set of screens (but i've locked this feature off for the demo!)
Oh, the keys are - O: Left, P: Right, Q: Jump/Float up shaft.
And i'd recommend playing in Spin... for some reason, sound in other emulators doesn't function as well (or at all!)
Anyway, hope you enjoy it - the full version should be out within the next couple of weeks :smile:
Download it
here!!
Si
Post edited by SimonLCFC on