Home
›
WoS updates
›
Software
printing text on HP-GL plotters through RS232 on AY-3-8912
Hello,
i don't know, if anyone is even interested in these things. But i do. I like printers, plotters and other devices which we can connected to the ZX Spectrum.
Some time ago i did small research about RS232 (i wrote pretty long and still unfinished article on my website, but it is in Czech). Interesting thing is, we can use RS232 fully compatible with ZX Spectrum 128k (and grey Amstrad 128k +2) with almost any ZX Spectrum clone with AY-3-8912. See this video - it have english subtitles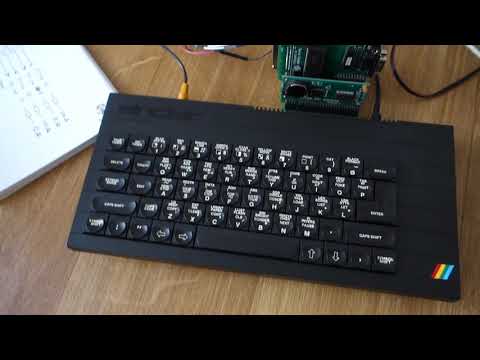 So yeah, i am using amazing utility sercp with ZX Spectrum 48k+ and ESXDOS on DivIDE. It really saves time if you programming on PC and testing on real hardware.
Thanks to others on forum oldcomp.cz we now have drivers which can transmit data from ZX Spectrum with 57600bps or even with amazing speed 115200bps. Yes, Z80 can do it. On speed 57600bps data can be received too. See source code here
https://cygnus.speccy.cz/popis_zx-spectrum_dg192k_rs232.php
(hopefully, some day, i will finish that article, some source codes must be analyzed, some measurements must be done).
Almost year ago i even built my own plotter which can interprett very simple and basic HPGL. It cannot do more sophisticated commands (like circles, curves, or fill areas), but even most basic commands like PU,PD, PA,PR are enough to be able draw anything. I can print complicated pictures from Inkscape (here are some for download
https://cygnus.speccy.cz/popis_printer-aritma0507_2.php
... at bottom of page).
Btw... before i built my own plotter, i drew these pictures on Aritma Minigraf 0507, which is plotter without any intelligence, is fully driven by ZX Spectrum with very interesting driver MZXR. It interprets language similar to HPGL, but not same, not compatible. Pictures from Inkscape must be converted from HPGL to MZXR. (utility is available)
So, now it's time draw some texts on HPGL plotter. And maybe on any HPGL plotter. Who will try it first?
I wrote simple driver, which is using font "rowmans" (and font "scriptc") from Dr. A. V. Hershey and draws texts generated by commands LLIST and LPRINT. (other fonts are here
http://www.whence.com/hershey-fonts/
- most of them needs to be converted and maybe little modified).
Here is article about it (in Czech - maybe Google translator will help?)
https://cygnus.speccy.cz/popis_hpgl-driver.php
Here is video about it (use subtitles, i translated it best i can)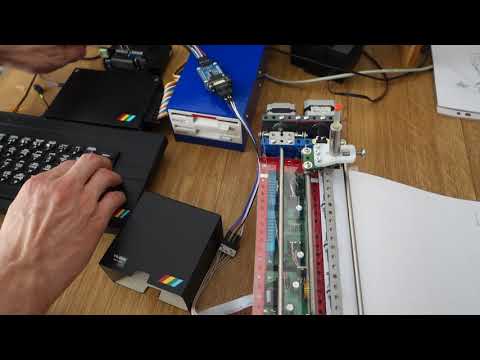 Dr. A. V. Hershey published his very nice fonts in book Calligraphy for Computers in 1967 (yes, in 1967 - almost 15 years before ZX Spectrum). I just wondering why we was not using it before? Why took it so long?
It should work, with some minor tuning (page size, resolution, font size, page rotation ...), on any HP-GL plotter (even on original Hewlett Packard) if you are able to connect it to Sinclair RS232 on AY-3 -8912. My driver by default uses 9600bps with RTS / CTS HW data flow control. But it is simple switch it on slower speeds 4800bps, 2400bps and enable odd or even parity. Many plotters uses some of these parameters.
Enjoy. Source code is of course available. Feel free modify it and make it better.
I am very interested see if someone will be able print something and how it looks from other devices.
Post edited by cygnus on