Stonechip Keyboards
The following article was taken from Sinclair User October 1984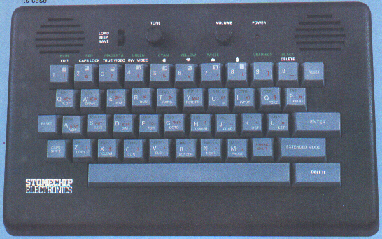 The new Spectrum keyboard from Stonechip Electronics is one of the few keyboards that can be fitted without opening the Spectrum.
Fitting the keyboard is simple. The top half, which houses the keys and amplifier is connected by a ribbon cable to a long, thin PCB. That has the aerial, MIC and ear plugs on one side, and socket on the other. That is plugged into the back of the Spectrum and the keyboard is then screwed together with the Spectrum inside. The Keyboard has 44 keys including a full size space bar and single key entry 'delete' and 'E' mode. In addition there are two reset keys.
At the top of the keyboard is the Load/Save switch which acts as the beep amplifier. There are both tone and volume controls and a good clear sound can be obtained. Also on top there is a LED to show you the power is on.
For reasons best known to Stonechip it has repositioned the MIC and power sockets. The MIC socket is 5mm nearer the user port and the power socket is placed between the two, so a number of add-ons will not fit.
Priced at £59.95, the keyboard is one of the more expensive available, but the ease of fitting and the facilities it offers makes it a good buy.