Volex TTX 2000s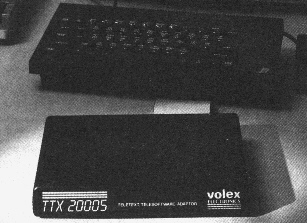 The following article was taken from Your Sinclair - January 1987
TELETEXT
Teletext is extra information available day or night whilst television transmitters are on air and without any charge and can now be enjoyed without the need of having a special Teletext TV set. All you need is to plug in you VOLEX TTX 2000S adaptor to receive 4-tel from Channel 4, CEEFAX or ORACLE services.
TELESOFTWARE
Telesoftware is the name for computer programs which are broadcast as Teletext. Thus they may be loaded "off-air" into your Spectrum instead of being loaded from, say, tape or microdrive. 4-tel is Channel Four's Teletext magazine and they are now broadcasting FREE telesoftware. Because of the special nature of teletext these programs are frequently updated - so you will not see the same thing each time you run the program.
EASY TO SET UP AND USE.
A simple procedure tunes the VOLEX adaptor to your local teletext channels. All loading of telesoftware is via an index page on 4-tel which the adaptor will automatically find and display for you. Absolutely no modification is necessary to TV or computer. A comprehensive manual is supplied.
STORRING PAGES
With the VOLEX adaptor it is possible to send received pages to your printer or to Microdrive for storage and later recovery.
The following review was taken from PCW 6 March 1986
Housed in a standard size under-the-Spectrum black box, the TTX2000 S could easily be mis-taken for a modem. But its purpose is to access Oracle and Ceefax, ITV and BBC's way of making use of spare lines in TV signals, which hold text information pages, as well as a considerable amount of advertising on the commercial channels.
Strong Signal
This lets a Spectrum and ordinary set receive them - it is not suitable for bulletin boards or communications - as well as downloading telesoftware directly into the micro. The use of an identical power supply connector to the Spectrum's for the tuner creates an initial bad impression - a simple slip could put 18V into your micro. You'll also need a strong signal to receive those spare lines and I found timing incredibly difficult. Once I had it set up I found that it treated interference on normal vision, not that this mattered much because as far as I could tell there's no way of superimposing pages (eq. containing subtitles or newflashes) over broadcasts. After all these problems I was surprised to find that the telesoftware downloaded without problem - I received a section of The Living Body program.
Normal Vision
However, downloading is not fast and you're limited to Channel 4 telesoftware unless a soft converter makes the BBC transmissions available too. All in all I wasn't impressed with the products performance and see little point in investing a penny short of £100 to indulge in the delights of broadcast teletext and software when a modem and subscription to a network gives you interaction too.
Note: I do not know why the units price changed between 86 and 87, especially upwards !