Sinclair Official Upgrade Kit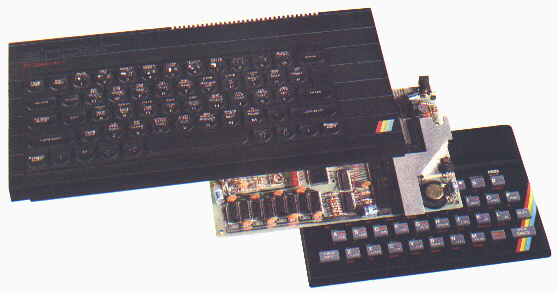 Here's some exciting news for 48K Spectrum owners – the official Spectrum Upgrade Kit.
The £20 Kit has everything you need to turn your Spectrum into the stylish new Spectrum +.
You don't even need an understanding of electronics, just the ability to solder a few wires together !
The leaflet in the kit gives clear, step by step instructions.
If your not sure about doing it yourself, don't worry. Simply return your 48K Spectrum to Sinclair and for £30 we'll upgrade it for you.
Whichever you decide on, you'll also receive the new 80 page User Guide and Companion Cassette.
The bigger, better Spectrum keyboard
The Spectrum + measures 12.5" x 6". It has large typewriter style keyboard with hard, moulded keys.
You'll find the new keyboard has a smooth, positive action - ideal for touch-typing, word processing, simulation programs and extended programming sessions. Two retractable legs give a perfect typing position.
There are 38 keys in all, including l7 new keys. Programmers will be pleased to see dedicated punctuation keys, a space bar, and separate shift keys for graphics and extended modes. And a reset button allows you to clear a program from your computers memory without disconnecting the power supply.
The official Spectrum Upgrade
Naturally your upgraded computer will accept all the peripherals including your Sinclair system Interface 1, Microdrivess and so on, as well as all Spectrum software. Just as important, new Spectrum software and peripherals will be designed with the Spectrum + in mind. So the Sinclair upgrade adds stylish looks, new capabilities… and new potential for the future.
Included - the new Spectrum + User Guide and Companion Cassette.
The new user guide has over 80 pages of information, including a handy BASIC dictionary. The Companion Cassette provides an interesting tour of the new keyboard and includes three entertaining arcade games.